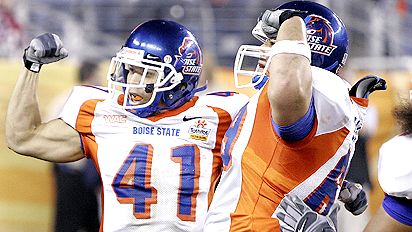 I'm a bit of a college football nut, so as I just finished watching the amazing 2007 Fiesta Bowl game between Boise St. and Oklahoma I was left asking myself if it was the best game I'd ever seen.
That's a big statement, especially coming on the heels of last year's national championship game between USC and Texas, but frankly the ending of the game was just amazing (read ESPN for the actual recap). There are some Oregon Ducks games I may have actually enjoyed more being an alum and diehard fan, but biases aside I was totally enthralled with this game.
What did it have going for it? The game itself was fascinating with an undefeated team from a small conference in Boise St. with a first-year coach going up against Big 12 champion and constant college football power Oklahoma. It was also the return from injury and probable last game for Oklahoma star running back Adrian Peterson. If Boise St. could get a victory and finish undefeated, it would not only be extremely impressive and finish their Cinderella story, but also continue the argument that a playoff is necessary in Division I football.
Boise St. then looked to have the game in control as they jumped out to an early 14-0 lead, then extended it to 28-10 later in the game. Oklahoma rallied though, and the two teams combined for 22 pts in the last 86 seconds of the game! And the plays during the comeback, as well as for Boise St. to come back at the very end of regulation were just incredible. Then Oklahoma scores on the first play in overtime, and Boise St. comes back with a trick play for the touchdown, and then another one executed brilliantly on the 2-pt conversion to win when they could have just played it safe for the tie.
My kudos to both teams, and especially Boise St. in amazing performance of guts and execution.